As internet use grows, cyber threats do too. In 2018 alone, CERT (Cyber Emergency Response Team) NZ reported a 205% increase in all incidents reports. This represents the greatest transfer of economic wealth in history, puts the incentives for innovation and investments at risk, and will be more profitable than the global trade of all major illegal drugs combined.
With a global spending prediction to exceed US$1 trillion by 2021, the need for prevention and preparedness putting IT firms ahead of the cybercrimes trends is a must. No wonder the number of unfilled cybersecurity jobs is expected to reach 3.5 million by 2021. This industry is now booming and many experienced IT professionals are now migrating to InfoSec or CyberSec specialisms. According to Cyber Security Ventures, the cybersecurity unemployment rate continues to hover around 0%.
According to Teodora Bear, Presto's IT Security Talent lead, "It is definitely a good time to be looking for jobs in Information Security and Cyber Security. New Zealand depends on cyberspace and the security job market (Australian and New Zealand) is already short of some 2,300 workers."
A report from the Information Systems Security Association (ISSA) and Enterprise Strategy Group (ESG) shows that the cybersecurity skills shortage has worsened for the third consecutive year, impacting 74% of organisations worldwide.
According to this report, the top three technology areas most affected by the cybersecurity skills shortage include:
cloud security (33%),
application security (32%), and
security analysis and investigations (30%)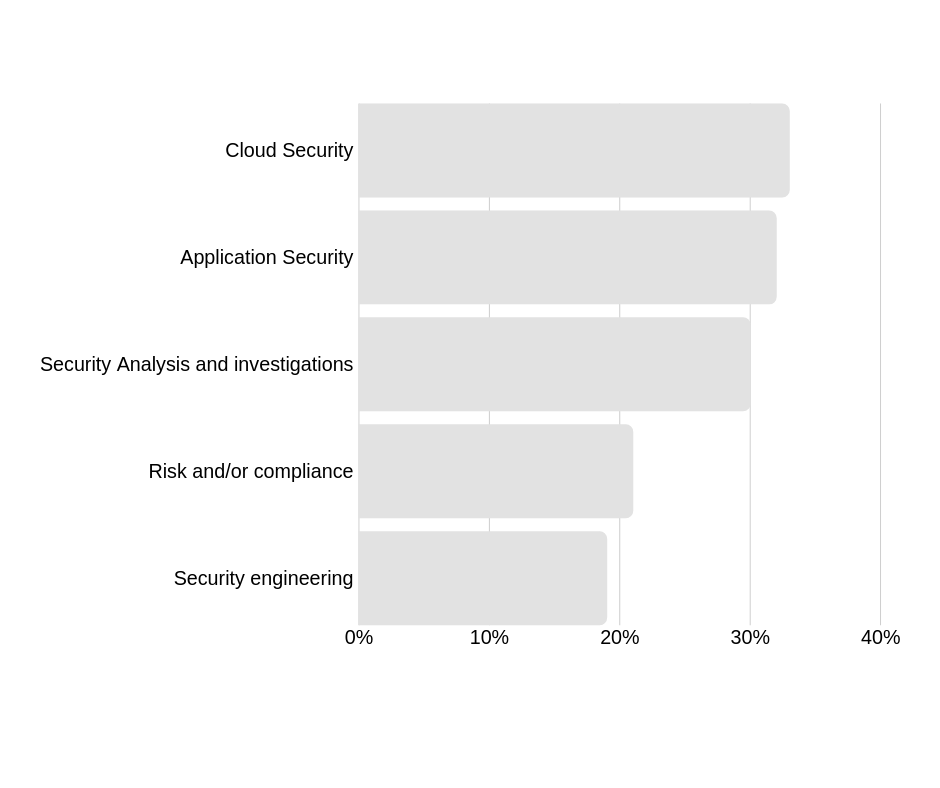 As a result, IT security specialists are listed on Immigration New Zealand's long-term skill shortage list. This means the NZ Government is actively encouraging skilled security analysts from overseas to work in New Zealand. While most opportunities are in the main centres (Auckland 50%, Wellington 27%, Christchurch 12%), there are jobs across the whole country.
Teodora shared her insights:
"I see the cybersecurity skills shortage as actually an opportunity, and companies should recognise and deal with this, not just as a security problem, but as an entire business problem. Hiring security specialists should be going hand in hand with training and upskilling IT professionals who want to move into the info and cybersecurity space. The ability to develop new skills is a powerful talent attraction strategy. There are a number of highly qualified graduates entering into the market already, who are willing and able to be trained...therein lies the answer to this significant future shortage.
We are witnessing a change in the cultural perspective, as now every technology worker needs to be involved in protecting and defending apps, devices, infrastructure and data. With new certifications and techniques, skills are growing and changing daily - it is definitely a place for dynamic and curious minds."
Presto is present in the most relevant industry conferences and we are establishing great conversations with our key clients. A number of them are expecting a huge growth, as 33% of them are looking to hire security-specific skills. We are now building a strong talent pool in this space and, if you are looking for specific skills, please contact us.
TO HEAR MORE ABOUT OUR CAPABILITIES AND HOW WE CAN HELP YOUR ORGANISATION, CONTACT TEODORA@PRESTORESOURCING.CO.NZ