The majority of New Zealand's business leaders (56%) struggle to find digital talent, according to PwC New Zealand's 2018 CEO Survey. Data scientists, Cyber Security architects and Software Developers are all in high demand around the country. According to the CEO respondents from the survey, not only the shortfall in these skills is a risk to business growth, but also a lack of digitisation and skilled digital workers nationwide.
The Digital Skills for a Digital Nation report last year points that the growth and demand for workers in emerging skill areas is growing locally and in the largest economies as well:
"Australia is predicting an additional 81,000 ICT jobs by 2022, the United Kingdom forecasts an additional 745,000 digital workers by 2018, Europe expects to be short of 500,000 IT specialists by 2020 and the United States of America estimates there will be over 20 million new technology jobs within two decades."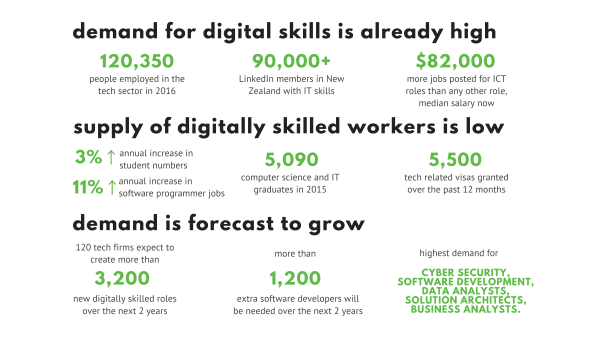 What is our role in this crisis?
Something we need to ask ourselves now: If NZ companies are being short-sighted and are only willing to employ experienced people, where are they going to come from if the investment is not made into the less experienced employee? This, in turn, will drive those employees towards organisations that are investing in 'growing their own'.
Our mission as a thought leader within the ICT industry is to raise the question in an attempt to change this standard through empowering employers with information, improving access to pathways and helping you realise the benefits of investing in people's futures. It is also part of our mission to raise the level of recruitment to avoid the awkward, and unhelpful interview experiences. The poor behaviour experienced by candidates (e.g. no acknowledgment of applications, response to queries, bias and comments to name a few) are often attributed to recruiters and employers. It is our responsibility as recruiters and employers to ensure we develop, train and support this evolving workforce.
Here are some things we can do to change this situation:
Check your bias
Communicate with candidate
Get help
Presto believes everyone deserves a chance to reach their full potential. We have embarked in a two-week journey to the UK to meet and inspire 150 candidates who are considering to make the move to New Zealand. Our workforce needs to be inclusive, diverse and representative of society across every sector.
"Diversity is being invited to the party. Inclusion is being asked to dance."
- Vernā Myers
Sources: PWC
This article was published on our quarterly issue, "Market Insights". Read the full newsletter here, issue 01 - March 2019, A New Frontier.