Download the digital skills ebook

here

and continue reading to hear thoughts from Presto's Managing Director, Craig McGrory.
What does a digital skills shortage mean for you right now?
There have been many discussion papers over the last few years highlighting the amazing growth the world is experiencing in digital technology. More recently, this has spurned a new wave of discussion on the dramatic effect the approaching digital talent shortages are having on business, and the economies they are struggling to survive in. Digital technology underpins both our society and our economy now more than ever, therefore the greater the digital skills shortage, the more important those skills become.
High level of demand in APAC – what's coming
For too long, New Zealand businesses have relied on immigration to fill the demand for digital technology skills, therefore comfortably sourcing from the global pool. The current landscape is seeing a significant shift away from our shores as the dominance in APAC starts to bite. It's ironic that COVID-19 is largely responsible for the digital skills shortage — not just because the global talent pool is drying up, but because business continuity is now highly dependent on digitisation. Advanced digital skills are no longer the domain of the IT sector; digital transformation is impacting on all industries, creating a huge demand for those with experience and expertise, especially within the APAC region. This growth is adding additional pressure on NZ businesses in our ability to compete with this mobile, and often remote workforce.
APAC will become the centre for digital innovation

"The next decade will be defined by a state of accelerated disruption. For many, COVID-19 will be a chronic condition and a return to pre-pandemic norms simply won't be possible. While painful this also creates fertile ground for innovation and further opportunity for big thinkers in APAC to chart a different course forward. We've already seen how APAC's linguistic and cultural diversity has been fuel for homegrown solutions to flourish. We'll see more products designed from the ground-up for languages like Hindi, Mandarin, or Bahasa lead before being adapted to English. Global decisions will be made in APAC as companies relocate their executive teams to Asia to be closer to the heart of the action AND the available talent" – Simon Kahn, CMO of Google Asia Pacific.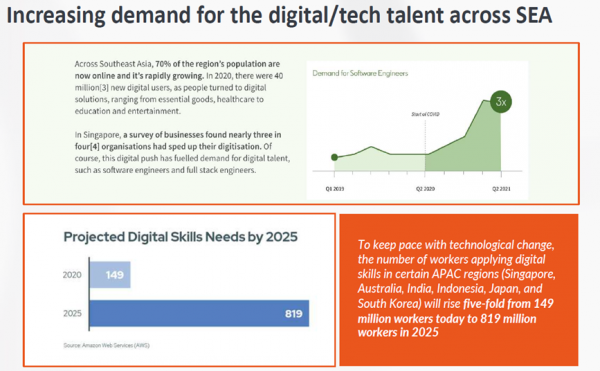 Game on for New Zealand
The graphic above illustrates what we can expect by way of competition for digital resources moving forward and the attached e-book gives you some great options to compete in this dynamic and ever-changing landscape. With the digital skills demand required by 2025 reaching 819 million workers, adopting new ways to secure digital talent that enables projects to complete, and goals to be met will require you to consider of all available strategies……..enjoy reading what we can offer